Want a simple ordering system? We can set up an online shop for your company, making ordering your uniform fast and straightforward.
If you think your company will benefit from having it's very own online shop then contact our Sales Team TODAY!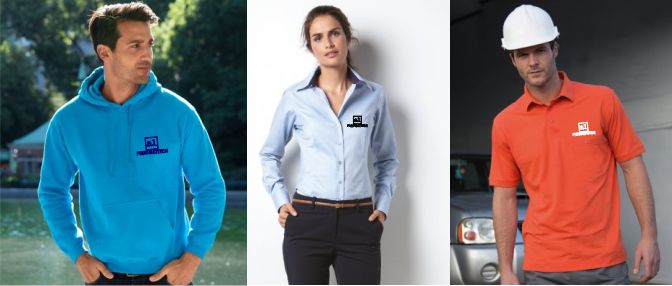 Customising your workwear with your company logo is a great way to advertise your business.
We supply workwear and uniform to a wide range of companies nationwide; ranging from Construction to Hospitality, Health and Beauty to Agriculture. Whatever your workforce's requirements are, we are able to source and customise your uniform to a very high standard no matter what your customisation choice is.
Here is a list of just some of the workwear garments we supply and customise.
Sweatshirts
Polo Shirts
T-Shirts
Smart Shirts
Hi Viz Vests
Hi Viz Jackets
Construction Trousers
Aprons
Chefs Jackets
Tunics
Take a look at our online catalogue to get a feel for what we can supply. If seeing samples is more preferable to you, then please contact us! Or better still, pop in and have a look at our workwear displays where we have a range of our bestsellers on show.
Design Process and Customisation:
Whatever stage your logo is at, whether you already have a design set-up or not, we can help.
We offer a variety of different processes to apply your logo. To help you with your customisation choices we offer advice on what the best process would be for the type of garments you are ordering.
For example, we do not recommend embroidered logos on T-Shirts as this method can be very heavy on the material and can pucker the T-Shirt fabric.
If it is waterproof garments you are after and you want Embroidery, then we will make you aware of how the logo will remove the waterproofing from the area you have embroidered.
If you have any questions or want any advice regarding customisation and garment quality then we are more than happy to speak with you.